Maybe you can also post your experiences on how you started with this tool/machine to possibly
inspire others.
Actually for me it started more of a necessity than an intended hobby due to countless repair works concerning the use of a welding machine in my place. In the latter part of 2002 i hired a friend welder and also rented his welding machine to do some welding jobs in the farm like canal covering grilles, pumphouse grille doors, GI pipe columns for post and many more. It took him more than a month to finish the welding task and paid him quite a sum of money. So summing it all up the amount I paid him could have bought me let's say 3 units of 200 amp welder at 2.7K each and a unit of 300 amp welder at 5.5K. These kind of welders are the locally made or assembled welding machines that can be purchased at nearby hardwares near us.
So after some few weeks of mulling over the welding skill that I have observed, decided to buy a 200 amp welder at 2.5K with some price haggling. I opted for the smaller welder in case I decide that welding is not my kind of thing. Anyway I also started buying the necessary equipment like the welding cables, electrode holder and ground clamp, some gloves, a small grinder and table vise. bought also a vise grip and some cheappy c clamps and a kilo of welding elctrodes for 35 php only. Then started practicing on scrap angle bars and steel bars, trying very hard to overcome the fear of striking the rod to the metal and producing great welding sparks.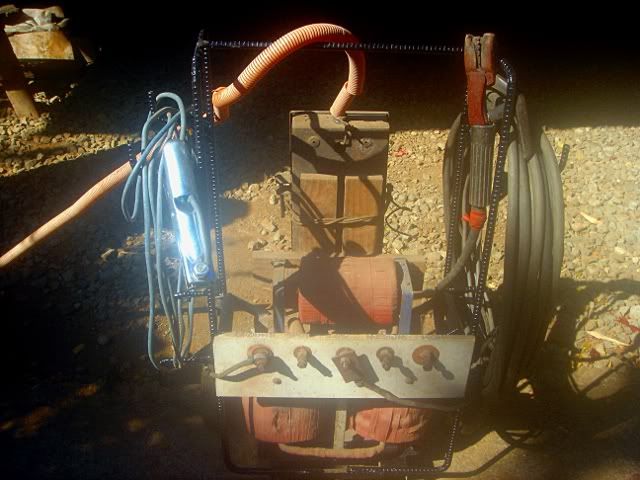 HERE's MY FIRST WELDER, a 200amp locally made welding machine
AND MY FIRST WELDING TOOLS
After months of constant practicing, the hit and miss thing with metal, lousy bead applications and several finger and skin burns, finally started developing confidence and when I got it right I started doing small repairs and maintenance work, welding here and there. Then had the courage to embark onto a larger welding project like a 2ft X 20ft GI pipe ladder, a 1 1/2 pipe in diameter, then followed by another,a three footer antenna stand with base height of 8ft.
Again another project, a collapsible 4ft X 8ft duplex dog cage for my growing doberman and a labrador pups and then of course the dog pen made of steel pipes and cyclone wires. And many more small insignificant welding projects followed and at this time I started buying the necessary additional power tools and heavy duty clamps and vises needed. Am now planning to enroll in TESDA for welding courses to learn the real proper ways of welding may it be in SMAW[stick welding], GMAW[mig welding], and TIG welding.
Since I have accummulated some number of tools for welding, have already a 300amp yamato welder, maybe a mig welder will be the next to buy.
The truth of the matter is that this welding thing has become a serious hobby for me besides my painting career, I can use it for future sculptures specially with a mig or a tig welder. HHHMMMMMM very promising indeed.